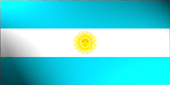 Bed and Breakfast Argentina
Lavalle Street, Tigre, Buenos Aires Train Station: Tigre (from Retiro)
Rooms: singles/ doubles/ shared bathrooms
Amenities:

Kitchen- Fridge- Breakfast- Guest area with TV- Beautiful Tudor house architecture. Swimming pool- Garden- Barbacue

Attractions: Tigre is a great natural area where you can enjoy of the Delta, Tigre river and Lujan river. Nautical activities. Ideal to sail the different river channels. Fruits Port with objects made of straw, vegetal carpets and curtains, birds market and handicrafts.

The House: This is a beautiful Tudor Style House situated conveniently close to the train station and just in front of the Tigre river. Recycled in its original style. The rooms have great balconies since you will see the river or the swiming pool located in the garden. Bathrooms are shared between two rooms.

Hosts: Alejandra and her family.

Rates:

For more information about this accommodation visit

Single U$S 25.- w/breakfast p/ day

Double U$S 35.- w/breakfast p/ day

Full breakfast with home made jams, breads and cereals.