Tigre Bed & Breakfast
A natural experience...
A few minuts from the city, the best alternative. 27 km is the distance between Buenos Aires and Tigre, one of the most beautiful Surroundings to visit when you are in Argentina. It offers a great number of natural places, ideal to sail the river channels, visit the Fruits Port, taking the "Tren de la Costa"or enjoying at the "Parque de la Costa". A great paradise to relax specially on Weekends.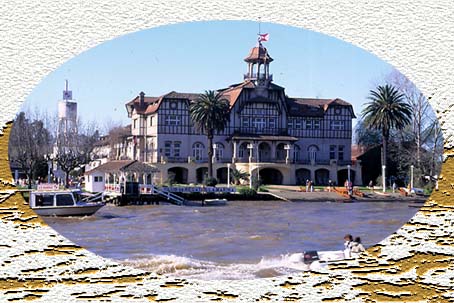 ---
B&B: Tigre (code: T1)
Neighborhood: Tigre -27 km to Buenos Aires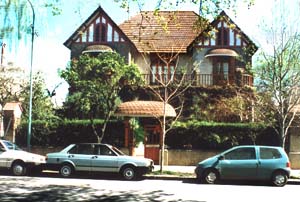 Address: Lavalle street

Rooms: singles/ doubles

Transports: Railway: Tigre Station from Retiro

Bartolomé Mitre line or Train De la Costa

Attractions:Tigre is a great natural area where you can enjoy of the Delta, Tigre river and Lujan river. Nautical activities

during all the year

. Ideal to sail the different river channels. Fruits Port with objects made of straw, vegetal carpets and curtains, birds market and handicrafts.

Excursions towards the different islands, Martin Garcia Island and Uruguay.

Description:

This is a beautiful Tudor Style House situated conveniently close to the train station and just in front of the Tigre river. Recycled in its original style this B & B is hosted by Alejandra and her family who will make

you

feel like at home. The rooms

,

which have great balconies since you will see the river or the swiming pool located in the garden

,

are nicely decorated. The bathrooms are shared between two rooms.

B

reakfast includes bread and jams made at home.

This house has been awarded by International and Local Tourism Authorities.

Amenities:

Swimming Pool. Garden. Barbecue

Rates

:

Single room U$S 25.- per day with breakfast

Double room U$S 35.- per day with breakfast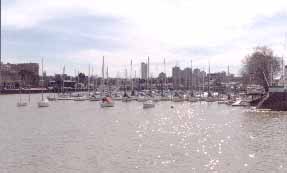 E-mail
Tigre Islands
The section of Tigre islands is conformed by more than 350 rivers and streams, with an area of 221 km2. The access is possible by a fluent service of boats and motor boats which depart from the local port.
There are lots of activities to do in the islands. Excursions, a day visit journey, have lunch or dinner in a ¨recreo¨, fishing, bird watching are only a few to mention.
Other attractions to visit: Coast Park the biggest park attraction in Argentina, Fruits Port, Reconquista Museum, Naval Nation Museum, Tigre Club, Church N. S. de la I. Concepcion, Fabbionatos Store, Ancient Custom, Delta´s Painting Collection, etc.
Argentina B & B

HOME HOSTEL HOTEL KNOW ARGENTINA PATAGONIA INNS
---
Copyright Argentina B & B 2002