Know Argentina
Directory of Accommodation in Argentina
Bed & Breakfast- Hostels- Hotels- Inns
Contact us: homeargentina@ciudad.com.ar


---
You are already getting to know Argentina, whose name comes from the Latin Argentum, that means silver. This title goes back to the Spanish conquerors who settled in this region in 1524. In this territory you'll find three main kinds of landscapes: mountains, plains and plateaus. The country is not only home of the highest summit in America (Aconcagua, 6959m), but also of the widest river in the world (Río de la Plata, 220km in its mouth). Argentina has a mild warm climate, but to the North there is a large subtropical area and to the South the cold climate prevails.
Buenos Aires is mainly humid; summers are warm (28 degrees C average), and winters are not so cold with temperatures ranging from the 3 to 8 degrees C.
In this country you may enjoy the dense forest of Tucumán and Misiones, the sounds of silence in the Northern Altiplano, the water falls from up to 80 meters in the Iguazú Falls, as well as the penetrating uproar of a thaw in the Perito Moreno Glaciar. You may also descry the touching flight of a condor above the impressive Cordillera de los Andes (The Andes Mountain Range), or the courting of the Franca wale in the Valdés Península.

Argentina a fascinating place to know and enjoy; you wil sure want to come back to the country of the six continents.
Bed & Breakfast Argentina


And we'll look for a great accomodation for you.
We organize all kind of activities in the city, museums, flea markets, lifenight, events, theaters, concerts, etc. And also outdoors. Trekking, Excursions, Guide Tours.
We can wait you at the airport too, we have service of transfer from the airport to your Bed & Breakfast.

Because Argentina have a lot to show to the travellers, and we know that!!!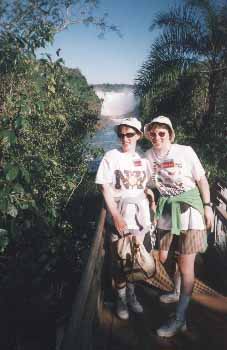 ---
Copyright Argentina B & B 2001